'This is Racing' video celebrates the drama and intensity of the race
BREADTH OF CONTENT, CRASHES AND COMMITMENT REVEALED IN LAUNCH VIDEO NOW PLAYING AT WWW.YOUTUBE.COM/GRIDGAME AHEAD OF GRID AUTOSPORT'S LAUNCH NEXT WEEK.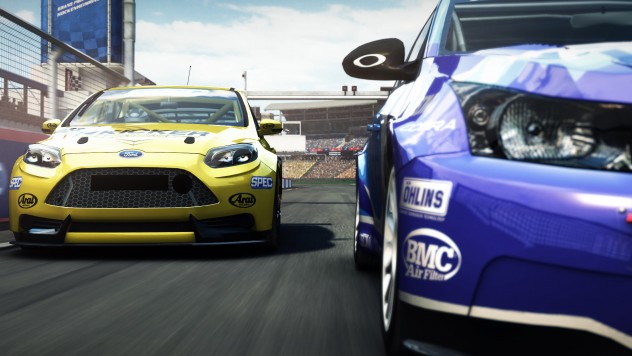 Today Codemasters® released the 'This Is Racing' GRID Autosport launch trailer ahead of the game's store ship date of June 24th in the USA and race into retail in Europe on June 27th for the Xbox 360 games and entertainment system from Microsoft, Windows PC and for the PLAYSTATION®3 computer entertainment system.
The video, now playing at https://www.youtube.com/watch?v=4J4-z2UeitE
reveals the intensity and drama that only racing cars can provide and demonstrates GRID Autosport's huge breadth of content. Each of the five disciplines of racing – Open-Wheel, Street, Tuner, Endurance and Touring Cars – are showcased at a selection of the game's environments, including iconic motorsport circuits like Mount Panorama, Spa-Francorchamps and Indianapolis, and beautifully recreated cities whose streets are turned into stunning tracks including Washington, D.C., San Francisco and Barcelona.
The trailer focuses on GRID Autosport's uniquely robust and competitive racing, as the game's range of thoroughbred racing cars, ranging from hot-hatches like the Volkswagen Golf R to hypercars including the Bugatti Veyron 16.4 Super Sport, are shown taking chances, making contact and occasionally crashing out in the uncompromising sprint for the chequered flag.
GRID Autosport's huge career mode, featuring over 100 routes and 22 environments, will see players build a career as a professional racing driver. Gamers can specialise in their favourite discipline or master them all as they develop their team or climb the ranks by accepting new offers. Players will feel the aggression of the pack in Touring Cars, speed into the night in Endurance events, race Open-Wheel cars with precision, show car control in Tuner events and react on the fly in Street races. Each unique category features series dedicated to different classes, including Touring Cars, Hypercars, Endurance GT Cars, Prototypes, Single-Seaters, Super Modified vehicles, Drift cars and many, many more.
GRID Autosport delivers players a separate and extensive online multiplayer game. Online, players will collect and maintain a garage of cars to customise, tune and upgrade. Players can compete in races across the game's five disciplines, plus a range of Party modes and in Demolition Derby mode. Gamers who join up to RaceNet, Codemasters' free online community hub with over 1 million members, will be able to track their progress in game, receive new gameplay challenges every week and can join together to form Racing Clubs as clan-style online competition comes to GRID Autosport.
GRID Autosport is set to ship on June 24th in the USA and release on June 27th in Europe for the Xbox 360 games and entertainment system from Microsoft, Windows PC and for the PLAYSTATION®3 computer entertainment system. A limited edition of GRID Autosport featuring exclusive additional content including the Mercedes-Benz SLS AMG Coupé Black Series, GRID Autosport Black Edition, is available to pre-order from GAME in the UK. Fans can keep up with all the latest updates straight from the studio by speeding over to www.gridgame.com and www.facebook.com/gridgame or follow the team at www.twitter.com/gridgame.