CODEMASTERS® ENTERS JUNIOR WRC CHAMPIONSHIP WITH LAUNCH OF DiRT RALLY TEAM
Jon Armstrong and Phil Hall Lead Charge for Junior WRC Crown
Codemasters® today brings DiRT to life with the launch of the 'Codemasters DiRT Rally Team'. Comprising of Jon Armstrong and co-driver Phil Hall, the duo will make their debut appearance this April in the 2021 Junior WRC Championship (Junior WRC). The season starts in Croatia before heading to Portugal, Estonia, Belgium, and Spain. Additional support comes from Thrustmaster and the Royal Air Force for the 2021 season.
The Junior WRC is widely regarded as one of the most hotly contested series on the rally calendar. Open to drivers under 30, competitors compete in identical Ford Fiesta Rally4 cars, all supplied by M-Sport Poland, which allows for a highly competitive yet level playing field. Set across five European locations, the Junior WRC retains the WRC race weekend set-up with drivers tackling identical stages and routes.
Jon Armstrong, 26, turned professional in 2015 and has competed in the WRC at both Junior and WRC2 levels. Alongside working full-time at Codemasters as the rally expert, Jon is known on the esports scene, having won the 2018 Esports WRC Championship. Co-driver, Phil Hall, is an RAF reserve and ex-rally driver with several years' experience at WRC and Junior WRC levels.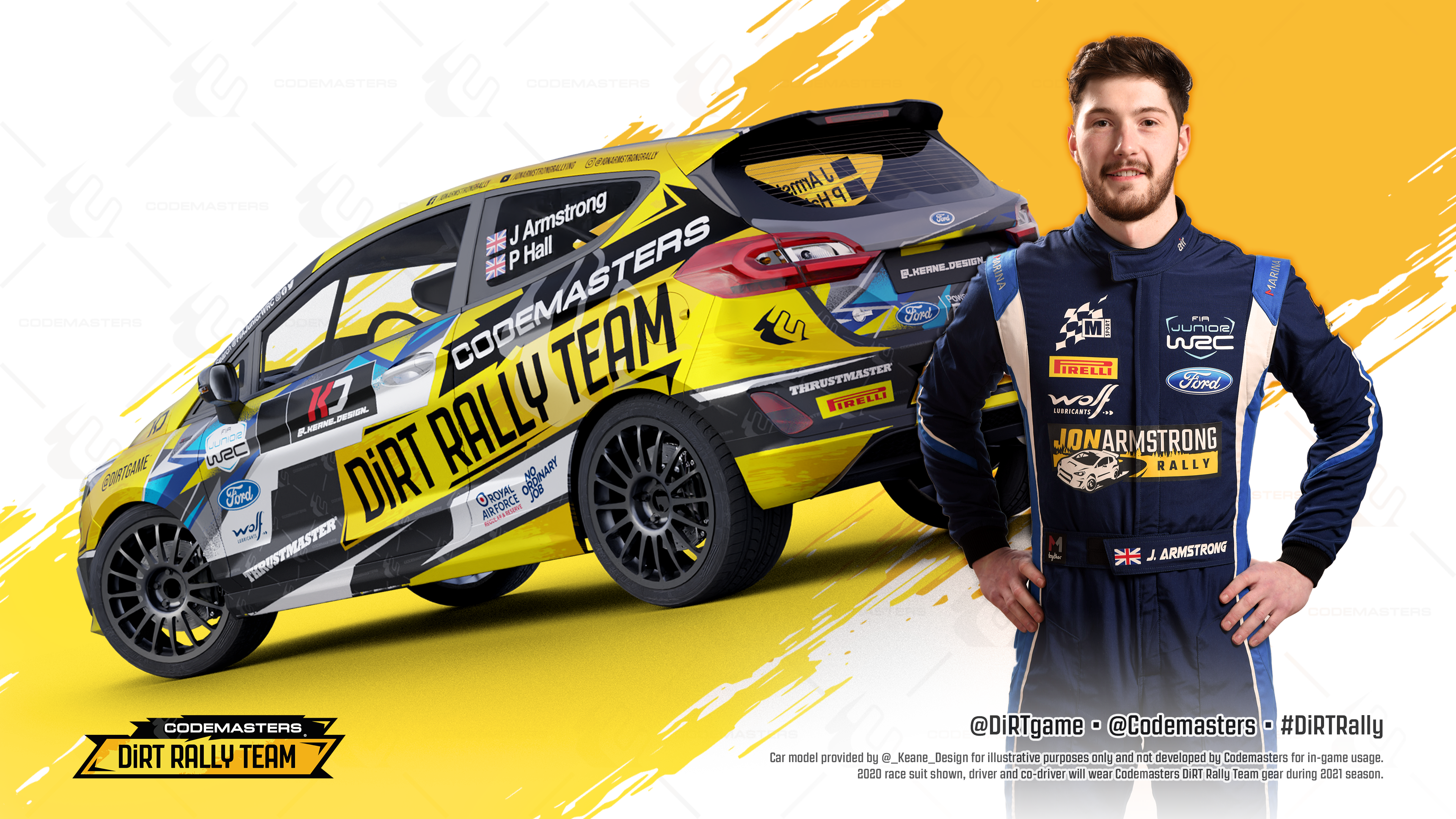 "We're excited to launch the Codemasters DiRT Rally Team, and we have high hopes for Jon and Phil in the upcoming Junior WRC season," said Ross Gowing, DiRT Rally Game Director at Codemasters. "Working alongside Jon, I know the skill, passion and dedication he brings. He'll have the entire studio and DiRT Rally community behind him."
I'm incredibly grateful to Codemasters for putting their faith in me, and I'm honoured to be the driver for the Codemasters DiRT Rally Team," said Jon Armstrong. "Due to lockdown, my partnership with Phil has developed through training using DiRT Rally 2.0. We can't wait for the Junior WRC to start, and we will share our experiences with the community through a series of behind the scenes videos."
Players can keep updated on Jon's progress alongside updates from the studio on Instagram, YouTube, Twitter and Facebook.