Quentin Dall'olmo wins Montalegre's World RX Esports Invitational
DiRT Rally 2.0 esports star Quentin Dall'olmo came out on top against a high-class field of drivers, sim racers and special guests in the second World RX Esports invitational, held virtually at Portugal's Montalegre circuit.
On Sunday (May 3) a 20-strong field 20 real-world drivers, top DiRT Rally 2.0 players and special guests came together for a virtual race meeting, hosted by Codemasters, Motorsport Network, Gamebyte, Cooper Tyres and the FIA World Rallycross Championship presented by Monster Energy. This is the second such event following the success of the Catalunya Edition 2 weeks prior.
The Montalegre grid featured several drivers who competed at Catalunya, and joining them were even more real-world drivers such as Australian Supercars driver Shane van Gisbergen, FMX motorcycle rider Blake Williams and veteran Formula 1 driver Mika Salo. Commentary was provided by World RX talent Andrew Coley and Neil Cole, who also feature as voiceover talent within DiRT Rally 2.0.
Just as with Catalunya, the format of the invitational mirrored that of a real-world FIA World Rallycross Championship event, with 4 Qualifying sessions and the top drivers progressing to Semi Finals, and an overall Final crowning the winner.
Rallycross is known for being a short, high intensity form of motorsport, where powerful cars race on tight circuits featuring tarmac, gravel and jumps. The Montalegre circuit, which in real-life is located on top of a Portuguese mountain range, has been faithfully recreated in DiRT Rally 2.0, providing an experience near indistinguishable from the real thing.
The Qualifiers were full of action, with real-world drivers mixing it up with the esports stars, and special guests proving their talent. Shane van Gisbergen was a notable stand-out from the new drivers, matching and in some cases beating the esports players, who are known to be the fastest rallycross drivers in DiRT Rally 2.0.
At the end of Q4 10 drivers had progressed to the Semi Finals, including both Hansen brothers, both Dall'olmo brothers, Codemasers' rally driver Jon Armstrong, esports star Lukas Mateja, Catalunya winner Mattias Adielsson and more. The top 5 from the Semi Finals would then meet in the Final.
As expected, both Dall'olmo brothers, Killian the current rallycross world champion in the game, made it to the final. Alongside them were Armstrong, Shane van Gisbergen and Mattias Adielsson, resulting in a highly competitive grid for the Final.
The Final itself was full of action, featuring a jump-start for Killian Dall'olmo and crashes between van Gisbergen and Adielsson. All 5 competitors gave it their all and it was Killian Dall'olmo across the line in first, Quentin Dall'olmo in second and Armstrong in third.
Killian's jump-start resulted in a 20 second post-race penalty which dropped him to fifth, meaning his brother Quentin took victory ahead of Armstrong and van Gisbergen on the podium.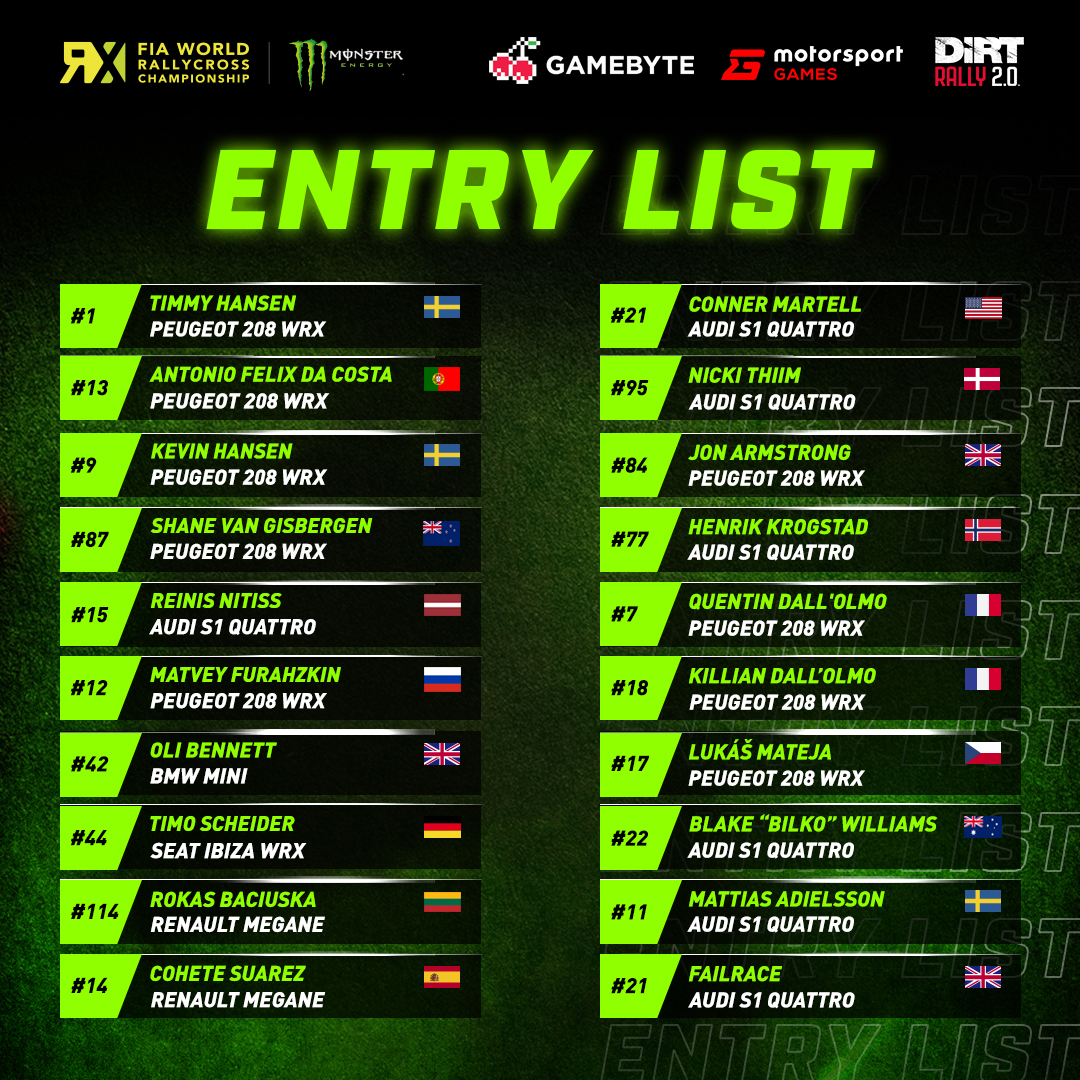 Final Standings:
1st: Quentin Dall'olmo (France)
2nd: Jon Armstrong (Ireland)
3rd: Shane van Gisbergen (New Zealand)
4th: Mattias Adielsson (Sweden)
5th: Killian Dall'Olmo (France)
Eliminated in Semi Finals:
Kevin Hansen (Sweden)
Timmy Hansen (Sweden)
Henrik Krogstad (Norway)
Rocas Baciuska (Lithuania)
Lukas Mateja (Czech Republic)
Eliminated in Qualifiers:
Oliver Bennett (UK)
Alex Day (UK)
Nicki Thiim (UK)
Timo Scheider (Germany)
Matvey Furahzkin (Russia)
Reinis Nitiss (Latvia)
Mika Salo (Finland)
Blake Williams (Australia)
Antonio Felix da Costa (Portugal)
Conner Martell (USA)
DiRT Rally 2.0 is the official game of the FIA World Rallycross Championship, featuring the cars, tracks and drivers from the 2018 and 2019 seasons alongside historic content. The Game of the Year Edition is available now.