Mattias Adielsson wins inaugural World RX Esports Invitational
Professional rally driver Mattias Adielsson defeated a star-studded field of DiRT Rally 2.0 competitors and real-world counterparts in the inaugural World RX Esports Invitational, held virtually at Circuit de Barcelona-Catalunya.
On Sunday (April 19) a field of 20 real-world drivers, top DiRT Rally 2.0 players and special guests came together for a virtual race meeting, hosted by Codemasters, Motorsport Network and the FIA World Rallycross Championship presented by Monster Energy.
The star-studded grid featured several World RX drivers including current World Champion Timmy Hansen, two-time champion Johan Kristoffersson and Andreas Bakkerud, as well as special guests including the likes of Le Mans 24 Hours winner Nicki Thiim, DiRT Rally 2.0 World Series Champion Killian Dall'olmo and sim racing personality Jimmy Broadbent. Commentary was provided by World RX talent Andrew Coley and Neil Cole, who also feature as voiceover talent within DiRT Rally 2.0.
The format of the invitational mirrored that of a real-world FIA World Rallycross Championship event, with 4 Qualifying sessions and the top drivers progressing to Semi Finals, and an overall Final crowning the winner. Unlike a real-world event however, the World RX Esports Invitational was held over a single day, thanks to the quick turnaround of virtual races condensing a two day event into an entertaining three hour broadcast.
Rallycross is known for being a short, high intensity form of motorsport, where powerful cars race on tight circuits featuring tarmac, gravel and jumps. Circuit de Barcelona-Catalunya's many features were faithfully recreated in DiRT Rally 2.0, providing an experience near indistinguishable form the real-world equivalent held in recent years.
The Qualifiers were full of action, with real-world drivers mixing it up with the esports stars, and special guests proving their talent. Notable moments included Codemasters' Jon Armstrong battling against World RX driver Kevin Hansen, Timmy Hansen showing impressive pace against the fastest DiRT Rally 2.0 players in the world, and Andreas Bakkerud being involved in several entertaining duels across the field.
At the end of Q4 10 drivers had progressed to the Semi Finals, including both Hansen brothers, both Dall'olmo brothers, Armstrong, Bakkerud and fellow professional drivers Mattias Adielsson, Kevin Abbring and Marius Bermingrud. The top 5 from the Semi Finals would then meet in the Final.
The Semi Finals featured a wet surface which challenged many drivers, and both races were full of dramatic moments. In Semi Final 1 Kevin Hansen and Quentin Dall'olmo were involved in a Lap 1 crash which limited their changes of progressing, while Killian Dall'olmo had a commanding performance out in front. Semi Final 2 had even more action as a last-moment overtake saw Mattias Adielsson claim the remaining Finals spot over Andreas Bakkerud and DiRT Rally 2.0 rally consultant Jon Armstrong.
The Finals featured all three esports players as well as World RX drivers Timmy Hansen and Kevin Abbring, alongside rally driver Mattias Adielsson. All five drivers showed great skill and determination while mastering Circuit de Barcelona-Catalunya's tricky turns and as the race carried on Adielsson secured the lead on Lap 5 of 6. With the esports players putting chasing him down fast, Adielsson was able to hold on and take victory in what was a highly entertaining afternoon of racing.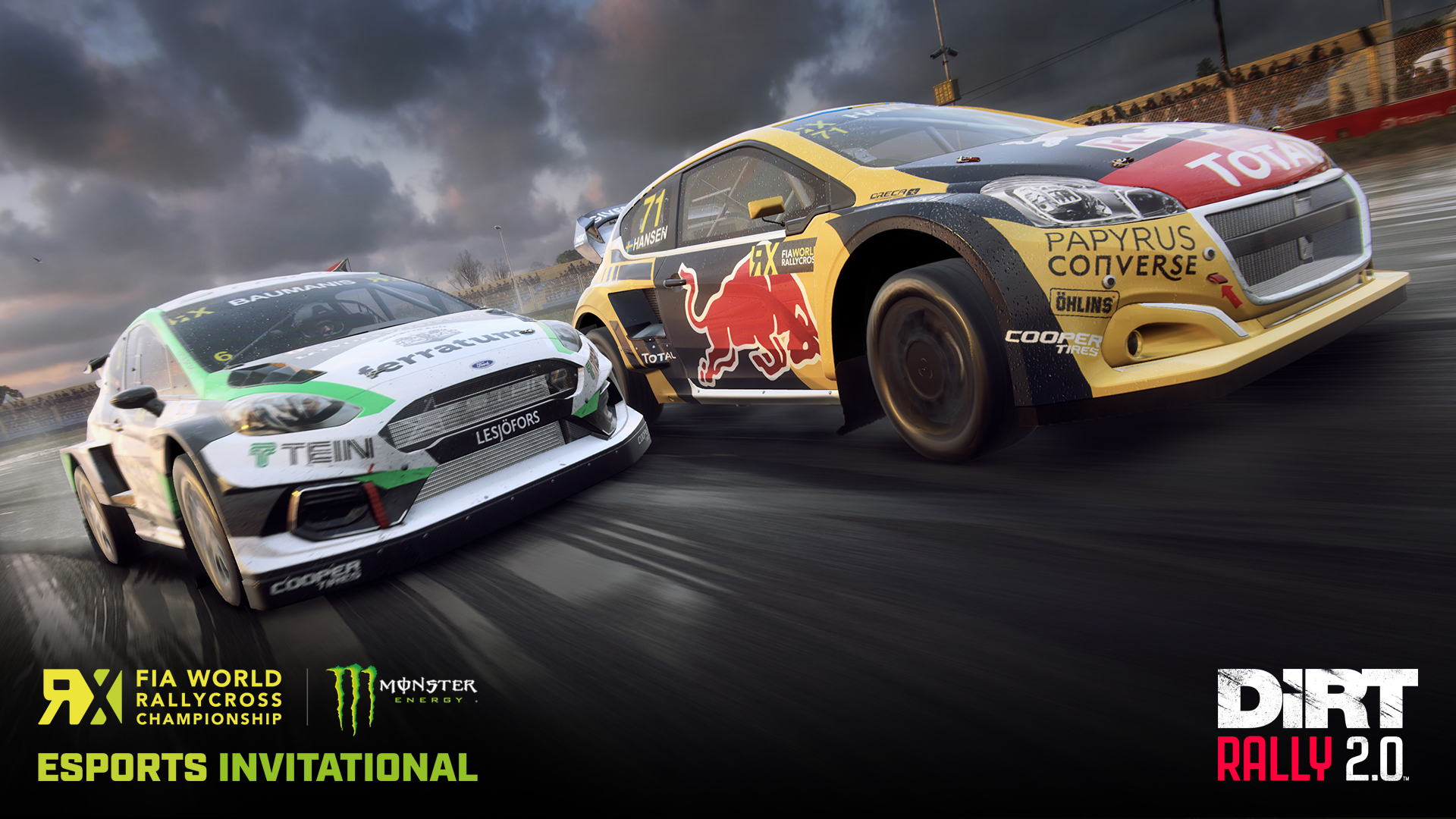 Driver Quotes (courtesy of World RX):
Mattias Adielsson:
"I'm super stoked to win, I put a lot of practice in to this together with Jon Armstrong but to win the whole race is just something else. It´s fantastic to have such an event and so many World RX drivers join, that made it super cool. I would like to thank my team WERT Esport for all [the] tips and for believing in me in Esports."
Kevin Hansen:
"It was great fun to take part in the first-ever World RX Esports race. It was great to do a race because I have really been missing that adrenaline rush. Obviously it's not the same as racing for real but it's very close in many ways. I'm really happy about my result, it went way better than I expected because this was the first online race I have ever done. One qualifying session win and I won my semi so I'm delighted."
Final Standings:
1st: Mattias Adielsson (Sweden)
2nd: Killian Dall'Olmo (France)
3rd: Lukas Mateja (Czech Republic)
4th: Kevin Abbring (Netherlands)
5th: Timmy Hansen (Sweden)
Eliminated in Semi Finals:
Kevin Hansen (Sweden)
Marius Bermingrud (Norway)
Quentin Dall'Olmo (France)
Jon Armstrong (Ireland)
Andreas Bakkerud (Norway)
Eliminated in Qualifiers:
Henrik Krogstad (Norway)
Oliver Bennett (UK)
Oliver Eriksson (Sweden)
Alex Day (UK)
Jimmy Broadbent (UK)
Nicki Thiim (UK)
Johan Kristoffersson (Sweden)
Timo Scheider (Germany)
Cohete Suarez (Spain)
Cabot Bigham (USA)
DiRT Rally 2.0 is the official game of the FIA World Rallycross Championship, featuring the cars, tracks and drivers from the 2018 and 2019 seasons alongside historic content. The Game of the Year Edition is available now.